Request A Quote To Get Started
Local Window Company in
When homeowners in need new windows installed, they choose the team at Energy Windows Doors and More. We're an established window company that sells and installs premium, energy-efficient windows and delivers superior craftsmanship with each and every job.
The Window Company You Choose Matters
There are many contractors throughout that offer window installation and replacement services, but most of them don't have the experience that we do here at Energy. Our window company has more than a decade of experience. We offer the best windows available from brands like Andersen and Pella at competitive prices. Our window installers are skilled tradespeople who adhere to all building codes and manufacturer warranty requirements, and we have project consultants who can help you choose the perfect windows for your home and budget.
Why You Should Choose Energy

Energy is the number one window company serving . We're a family business that takes pride in our work and which delivers exceptional customer service and care. Energy offers honest and fair pricing, and we never try to sell our customers products and upgrades they don't need. We want you to be thrilled with our work and the only company you call for your next home improvement.
Is It Time for New Windows?
As the premier window company in the region, we're often asked by homeowners how to know when it's time to replace your windows, and age is the number one factor. Know the expected product lifespan of your windows and replace them proactively before they reach it. You should also watch for signs that your windows are wearing out. These include draftiness, excess moisture, difficulty opening and closing, and the inability to secure the window. Excess outside noise is also an indication, and you should replace windows that have non-superficial damage to the frame or glass.
We Install Energy Efficient Windows
Most of the windows that our window company offers from top brands like Ideal and ProVia are energy efficient, and many of them even have Energy Star certification. Windows play an integral role in the building envelope of a home, and an investment in energy-efficient windows pays dividends long term as the home will be more comfortable and less expensive to heat and cool.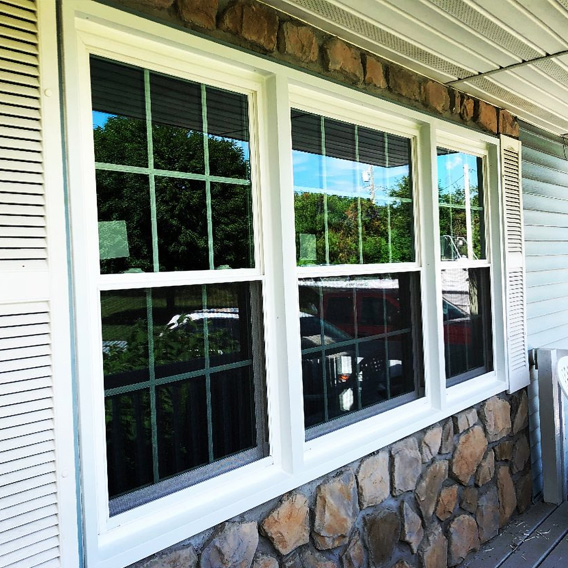 Our window company in installs all types of residential windows. That includes double-hung windows, which are the most prevalent, and single-hung, which are a more affordable alternative. We can install windows that have been custom-made for your home in addition to awning, bay, bow, casement, garden, geometric, picture, and slider windows.
Vinyl Replacement Windows
Vinyl replacement windows are the most popular choice among homeowners in because they're an affordable option while also being beautiful and long-lasting. This material requires little to no maintenance and is energy efficient and will never fade or need painting.
Composite Replacement Windows

Composite windows have a vinyl exterior that requires no maintenance, but a core made from another material. This material can be solid wood or fiberglass or resin, and this allows the window to be even more insulating and durable while providing all the best benefits of vinyl as well.
The Benefits of New Windows
Having our window company install new windows will enhance the curb appeal of your home and increase its value. In fact, replacement windows provide a high ROI at an average of more than 75%. New windows will make your home more comfortable and energy efficient. They'll block more unwanted external noise. Modern windows are more secure and will give you greater peace of mind, and you can opt for integrated blinds and similar features that help to improve indoor air quality.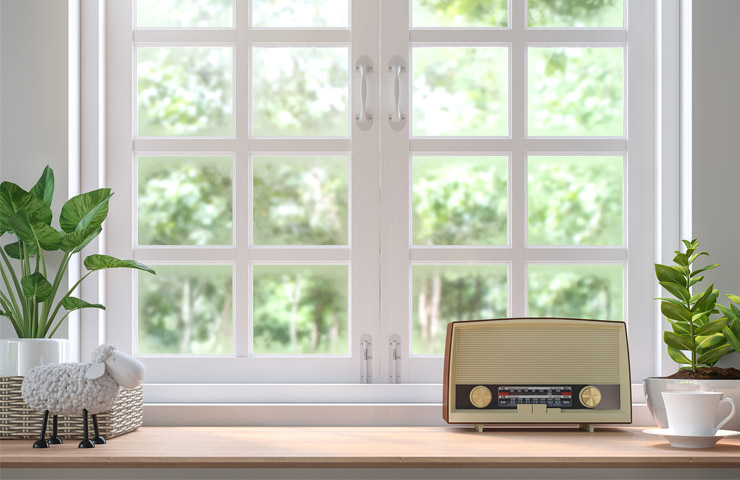 Our Window Replacement Process
We offer free at-home consultations. Our window company will send a window expert to your home to answer your questions, explore your window options, and provide you with accurate estimates for the products that interest you. If you choose to proceed, we'll order your new windows and set an installation date. Most window replacement projects are completed in a day. We'll first remove the old windows and inspect the structure to ensure that there are no issues. If that checks out, we'll then install the new windows along with a weather barrier, and finally, we'll perform a walkthrough with you to ensure that you're thrilled with your home's new windows.
Choose Energy as Your Window Company
Energy is proud to be a trusted window company in , and we'd welcome the opportunity to make you our next loyal customer. Schedule your free quote online, or call us with any questions.