Request a Quote to Get Started
When homeowners throughout the Delaware Valley need new wood front doors installed, they call the professionals at Energy Windows Doors and More. Our company offers a wide selection of beautiful, durable, and energy-efficient wood doors, and our door installers are highly skilled and experienced tradespeople who are going to install your new door with great attention to detail so that it improves the curb appeal, convenience, and security of your home for many years to come.
Do You Need a New Front Door?
A common mistake homeowners make is not replacing their front doors until they're in obvious need of replacement and perhaps even some water damage has occurred. We recommend a more proactive approach as it will save you money in the long run. If you have a cedar door, for instance, that is expected to last 40 years and has been well maintained, replace it as it nears that mark rather than after. You should also watch for signs that your door may be wearing down quicker than expected, and be mindful that wood front doors do require maintenance, such as new weatherstripping and repainting or re-staining. Drafts are a significant issue as you're losing money heating and cooling your home. A door that is difficult to open and close may have warped and should be replaced. You should also watch for security concerns, heavy weathering, moisture damage, and damage to the wood or frame.
The ENERGY Experience
We offer more by design. From consultation to installation to service, our process is built around your needs.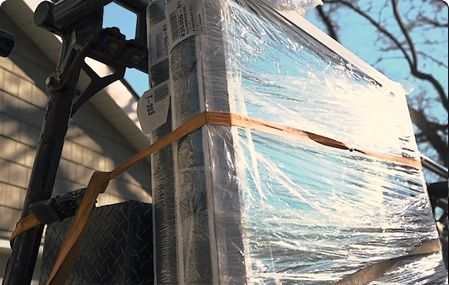 We contact you to schedule a visit, take measurements and provide a quote of the desired project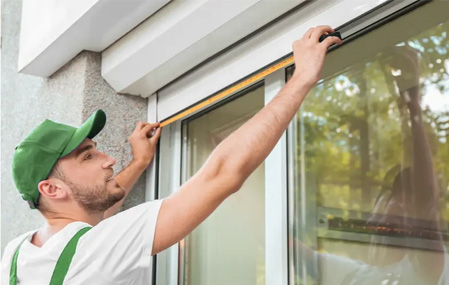 From your initial contact to the finished installation, we guarantee your satisfaction
The Benefits of Wood Front Doors
Wood front doors are the traditional choice for homes, but they're also a strong choice. The top advantage of a wood door is energy efficiency. Many wood doors are Energy Star certified and will make it more affordable to cool and heat your home. Wood doors are strong and durable and provide excellent security. They dampen noises very well and allow for a quieter home and better listening experiences. Many homeowners agree that wood doors are unmatched aesthetically, and there is a wide range of design choices available, including countless paint and stain colors but also a variety of enhancements, such as transom windows and sidelights.
Improved Energy Efficiency
Energy only sells the most energy-efficient wood front doors available from the top manufacturers, and modern entry doors have high R-values, which is an indication of thermal resistance. A door with a high R-value helps ensure that you don't lose heat during winter or that your door doesn't heat up during summer. This makes a big difference over time with a door that will last decades, and it typically more than offsets any additional cost of choosing a higher-quality door with a greater R-value.
Request A Free Quote To Take The Next Step?
Other Front Doors to Choose From
You're not limited to wood front doors with Energy. Our team installs and replaces all manner of doors used for residential purposes in the Delaware Valley, including fiberglass and metal front doors.
Fiberglass Front Doors

Fiberglass is a popular alternative to wood front doors because the material is cheaper and requires little to no maintenance. Modern fiberglass doors are beautiful and available in a wide selection of styles and colors.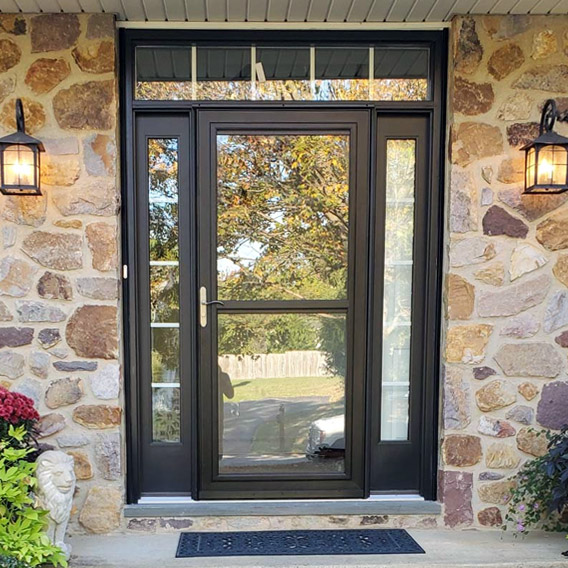 Metal Front Doors
A steel front door is a superior choice for the homeowner who wants to maximize security. But metal doors are also among the most energy efficient and available in many different styles and colors as well.
Why You Should Choose Energy
Energy Windows Doors and More has been serving the Delaware Valley for more than a decade. We're a fully licensed and insured contractor but also a family-owned and -operated company that delivers the kind of customer service and care that you expect from a family business. Energy only uses premium materials, and we install new wood front doors that stand the test of time.
Get a Free Consultation and Quote
If you're considering having a new front door installed, Energy is happy to send one of our consultants to your home at no cost to you and without obligation. If needed, we can inspect your current front door and provide you with a professional assessment. We can also answer any questions that you may have, explore the wood front doors we have available, and provide you with an accurate estimate for any that interest you.
Patio Door Installation and Replacement
You can also count on Energy to install or replace your patio doors. We offer French patio doors, which are an elegant and traditional choice, but also modern options, such as sliding and folding patio doors that give you a lot of options when it comes to sunlight, airflow, and ingress and egress.
Trust Energy to Install Your Wood Front Doors
Homeowners throughout the Delaware Valley have trusted Energy to install their wood front doors for many years, and we're confident that we can make you our next loyal and long-time customer. Call us today or reach out to us online to schedule your consultation or with any questions.