Request a Quote to Get Started
Like our windows, our sliding glass door replacements are available in vinyl or composite construction. Sliding doors are essentially giant sliding replacement windows. They contain the same thermal properties and construction methodology. They also feature warm edge spacers, dual panes, Low-E gas filled glass and an energy star rating. You can select from 2 or 3 light sliding doors, or French-style doors. You might choose from the subtle, warm tones of our standard white or beige windows. Or, make a bolder statement by complementing your exterior with our American Brown exterior window. Either way, our team of experienced sliding glass door installers can accommodate.
On the interior, in addition to white and beige, you may choose from three splendid woodgrain sliding glass door replacement finishes. This option will allow you to accent or complement any natural décor that may already exist. And if beige is your exterior choice, this sliding glass door company also offers a white interior finish that may add to that clean, crisp look your room desires.
The ENERGY Experience
We offer more by design. From consultation to installation to service, our process is built around your needs.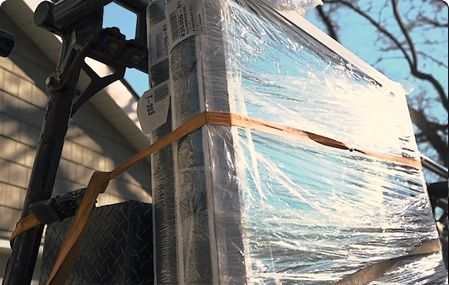 We contact you to schedule a visit, take measurements and provide a quote of the desired project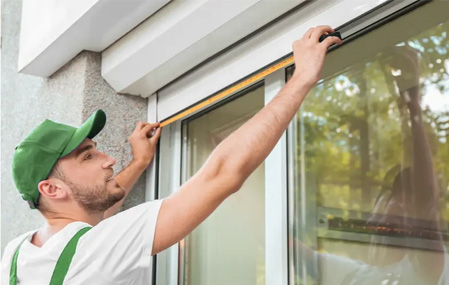 From your initial contact to the finished installation, we guarantee your satisfaction
Sliding Glass Door Replacement
Replacing your old sliding glass doors can save you money in reduced energy bills. This in turn adds value to your home. Energy savings are especially important if you own an older home; replacement sliding glass door technology has come a long way over the years. Replacing your old, single-pane, metal-framed sliding glass doors in NJ can add years of enjoyment to your home, helping to retain heat in the winter and cool air in the summer.
The appearance of sliding glass doors has improved vastly as well. Modern wood-grain finishes add a touch of class to what used to be simply a utilitarian way to access your patio or deck. Our white, beige, or wood-grain selections for your sliding glass door replacement immediately enhance your home's décor and appearance, making the door an integral part of your home's style and design.
Request A Free Quote To Take The Next Step?