Request A Quote To Get Started
Boost Curb Appeal and Energy Efficiency With New Fiberglass Windows
If you own a home in the Delaware Valley or surrounding areas and would like to replace your windows, Energy Windows Doors and More recommends fiberglass windows from top brands like Andersen and Pella. Energy is a trusted window installation contractor that offers premium windows at competitive prices and installs them with the great attention to detail that your home deserves.
All About Fiberglass Windows
Fiberglass windows differ from traditional windows in that the exterior is framed with fiberglass as opposed to wood while the interior generally uses either real wood or a wood veneer for that classic, homey look and feel. Manufacturers create fiberglass, which is a fiber-reinforced plastic, by combining glass fibers and resin, but not all fiberglass is the same. Fiberglass formulas are complex, often proprietary, and typically adjusted based on the application. The material is used in everything from lining soda bottles to building aircraft, and it's an excellent choice for windows because it is strong and durable and an excellent insulator while also inexpensive relative to other window materials.
Fiberglass vs. Other Window Materials
A great advantage of fiberglass windows, particularly when replacing many or all of a home's windows, is cost. While fiberglass does tend to be a bit more expensive than vinyl, it's typically less expensive than wood, clad, and composite windows. Another benefit is thermal performance. A fiberglass window outperforms a wood window and performs similarly to an aluminum-clad wood window at a much lower cost. Fiberglass is similar to vinyl in that it will never rot and requires little to no maintenance, but it is also notably stronger and provides better impact resistance. Fiberglass windows are environmentally friendly, enhance property value, and dampen outside noises.
Energy Is the Smart Choice for Your New Fiberglass Windows
Our company has been established and trusted in the Delaware Valley for a long time. At no cost and without obligation, we'll come out to your home to explore your window options with you and help you choose the perfect fiberglass windows while maximizing your home improvement budget. Our estimates are accurate and provided without charge. Our window installation techniques are proven and refined and meet or exceed all building codes and manufacturer requirements, and we include a complimentary warranty on all workmanship that is in addition to the manufacturer warranty for the window itself.
Request A Free Quote To Take The Next Step?
Signs You Should Replace Your Windows
Age is the most important factor as your goal should be to replace your existing windows as they reach the end of their expected lifespan and before you deal with issues like reduced energy efficiency. Watch for air leaks as those not only diminish comfort in the home but can cost you big in heating and cooling. Replace the weatherstripping, and if that upgrade doesn't eliminate the draft, replace the window. Energy also recommends replacing windows that are difficult to open and close or that are no longer secure, and you should replace windows with any non-superficial damage to either the frame or glass.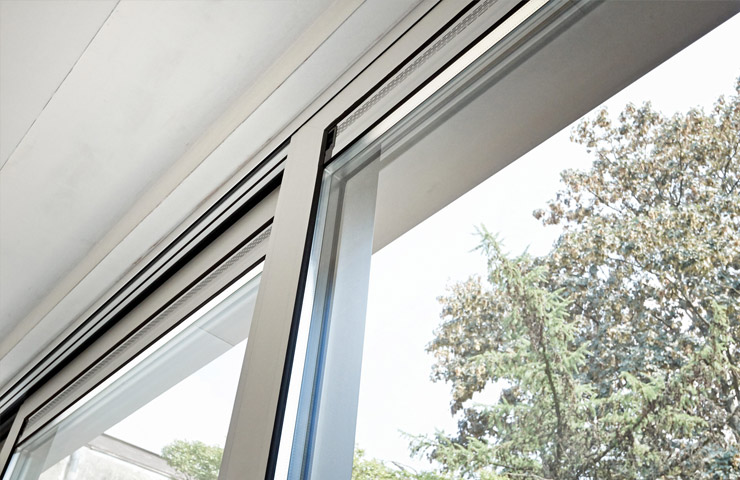 Fiberglass Is an Energy-Efficient Choice
Fiberglass windows are among the most energy-efficient window options available for your home. Many of the windows we offer are ENERGY STAR certified. That certification gives you confidence that the window will perform well and may even make you eligible for energy incentives that help offset the initial investment. An improved building envelope results in a reduced carbon footprint, and fiberglass windows are also an environmentally friendly choice. They're made primarily from sand, which is an abundant resource and easily recycled, and energy consumption during manufacturing is relatively low.
Fiberglass windows are not your only option with Energy. We partner with the leading window brands, which in addition to Andersen and Pella include Ideal, Interstate, and ProVia, and your material options beyond fiberglass include wood, vinyl, composite, and aluminum.
A Full Range of Window Styles
Energy installs all styles of windows used throughout the Delaware Valley for residences. We replace all types of windows, convert windows, and perform new installations too. With fiberglass windows, you have the full range of choices available to you, including custom and specialty windows in addition to double- and single-hung windows, casement and awning windows, bay and bow windows, picture windows, sliders, garden windows, and much more.
Trust Energy for Your New Fiberglass Windows
Count on Energy to help you choose the perfect fiberglass windows for your home and deliver a professional and lasting finish at a fantastic price. Contact us today to schedule an on-site consultation or with any further questions about your window installation and replacement options.