Request a Quote to Get Started
Many homeowners in the tri-state area prefer the convenience and beauty of double-hung vinyl replacement windows. Choose from styles that pair the traditional look of "divided light" windows with modern energy efficiency. Or select clear picture panes that provide an expansive, full view of your yard, deck, or patio. Our double-hung replacement windows meet or exceed ENERGY STAR® requirements specified by the US Department of Energy. In addition to energy efficiency, the premium double-hung vinyl replacement windows we offer have dual sliding panes and the convenience of tilt-in cleaning.
The two operating sashes of these windows allow you to open the top or bottom portion of the windows as needed for fresh air. You can release the top and bottom halves of these double-hung replacement windows from the tracks within the frame to tilt them inward for cleaning. This means no more climbing up on ladders or wrestling with hoses to clean the exterior of your windows!
The Energy Experience
We offer more by design. From consultation to installation to service, our process is built around your needs.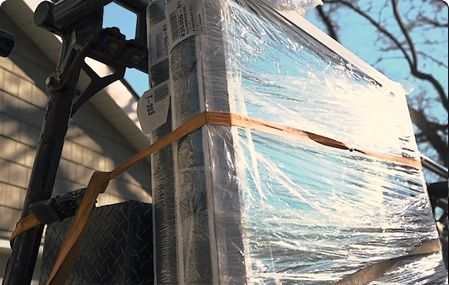 We contact you to schedule a visit, take measurements and provide a quote of the desired project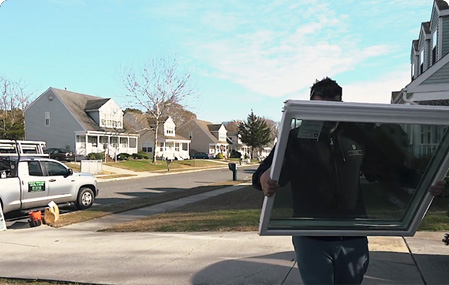 From your initial contact to the finished installation, we guarantee your satisfaction
Double-Hung Replacement Windows and Installation
As a family-owned and operated double-hung window company, Energy Windows, Doors and More carries top-brand double-hung vinyl replacement windows, including Ideal, Andersen, and ProVia, among others. These windows are available in both vinyl and composite materials. We offer a wide range of sizes, styles, and colors to suit your home décor and budget. All our windows are backed by a dependable manufacturer's warranty.
With Energy Windows, Doors and More, affordability means never compromising quality. When you purchase windows from us, you also purchase our professional double-hung window installation services. Our experienced crews take the greatest care in removing your old windows and installing your new double-hung replacement windows. We are dedicated to customer satisfaction and will work hard to ensure you are delighted with your choice of replacement windows, our installation services, and our crews' punctuality and attention to detail.
Request A Free Quote To Take The Next Step?
Double Hung Windows Differ from Single Hung Windows
Double-hung windows have two sliding sashes for ventilation, while single-hung windows have only one movable sash and a fixed top sash. Single-hung windows are more affordable and have a bottom-operated sash, making them a popular choice for budget-conscious homeowners. Both types of windows come in various materials, colors, and finishes to suit the home's style. Ultimately, the choice between double hung windows and single hung windows depends on the homeowner's preferences, budget, and specific needs.
Why Choose Energy for Your Double Hung Windows?
At Energy Windows Doors and More, we have significant expertise in replacing double hung windows. Our company has been family-owned and operated since its inception, and our deep personal involvement and industry knowledge have helped us establish long-standing partnerships with our vinyl replacement window manufacturers. Our history of exceptional service and dependability has made us the go-to contractor for replacement windows and doors in the Delaware Valley, allowing us to pass on savings to our valued customers.
The Benefits of Double Hung Windows
Double hung windows offer several benefits for homeowners. They provide flexibility in terms of ventilation as both sashes can be moved up or down, allowing for better airflow and temperature control. They are also easy to clean as both sashes can be tilted inwards, making them accessible from the inside. Double hung windows offer a traditional and timeless look, making them a popular choice for homeowners seeking to maintain the original aesthetic of older homes. They are also highly customizable, and available in a variety of materials, colors, and finishes. Because of the variety of customizability, homeowners can match their specific style preferences. Double hung windows can increase the energy efficiency of a home by reducing air leaks and providing better insulation.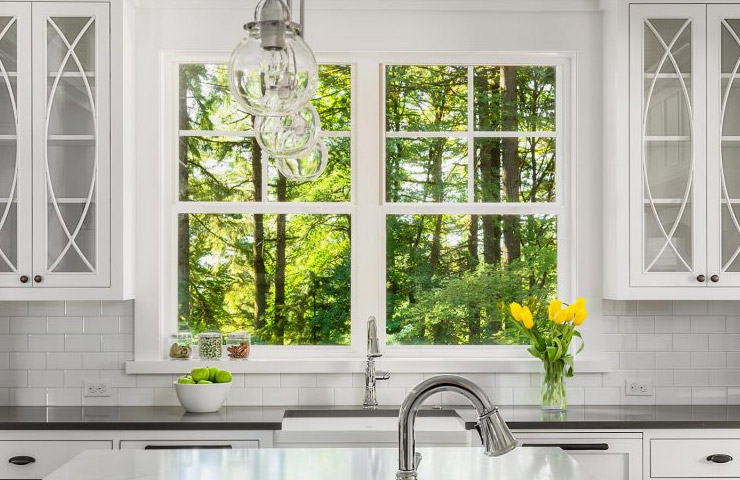 Specializing in Vinyl and Composite Window Materials
Our company specializes in installing high-quality double hung windows made from vinyl or composite materials, known for their durability, low maintenance, and energy efficiency. Vinyl windows, made of polyvinyl chloride (PVC), are affordable and resistant to moisture, rot, and fading. Composite windows, made of a blend of materials such as wood fibers and PVC, offer the best of both wood and vinyl windows. Our team is well-trained in window installation, guaranteeing precise measurement and fitting to ensure optimal window performance.
Trust the Experts at Energy for Your Double Hung Windows
Choosing the right company to install your new double hung windows can be a daunting task, but at Energy Windows Doors and More, we make it easy. With our years of experience and deep industry knowledge, we have become the go-to contractor for replacement windows and doors in the Delaware Valley. We pride ourselves on our exceptional service, dependability, and attention to detail, ensuring that every project is completed to our client's full satisfaction. Contact us online and let us help you transform your home with the beauty, comfort, and energy efficiency of new double hung windows.