Request A Quote To Get Started
Trust Energy for your new front door installation to ensure that your home stays secure and energy efficient for many years to come.
Enhance Your Home with a Front Door That Looks Great
An entry door is a crucial element of any home when it comes to curb appeal, functionality, and convenience, and if the time has come to replace your front door, Energy Windows Doors and More is the name to trust in the Delaware Valley. We perform expert front door installation and replacement at competitive prices and offer a wide selection of the top doors from the most trusted brands.
Do You Need a New Front Door?
It's never the wrong time to schedule front door installation in order to beautify and modernize your home's appearance, but when should you replace a front door from a maintenance perspective? Our recommendation at Energy is to replace your entry door proactively based on the expected lifespan. That said, some products, such as many fiberglass doors, are expected to last upward of 70 years, so you should also keep an eye out for signs that the door is wearing out sooner than expected. These can include draftiness not correctable through new weatherstripping, difficulty opening, closing, securing, and any non-superficial damage to the door itself, any glass, or the surrounding frame.
The Benefits of a New Front Door
A new front door will enhance your home's curb appeal and add real value to your property. In fact, the real estate industry estimates a 75% return on investment for the average new front door installation. A new entry door will also improve energy efficiency and make your home more affordable to heat and cool. It's also an opportunity to improve security, smart features, privacy, and natural light.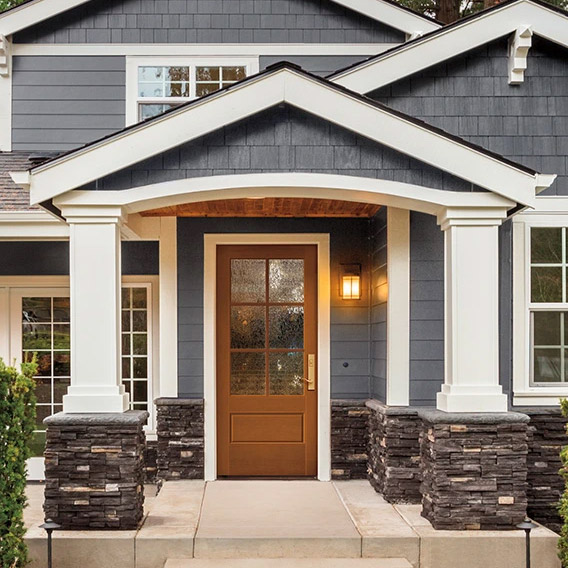 Choose the Perfect Material for Your Front Door
Energy offers front door installation services for all types of doors used for residential purposes throughout the Delaware Valley. That includes fiberglass, wood, and metal doors.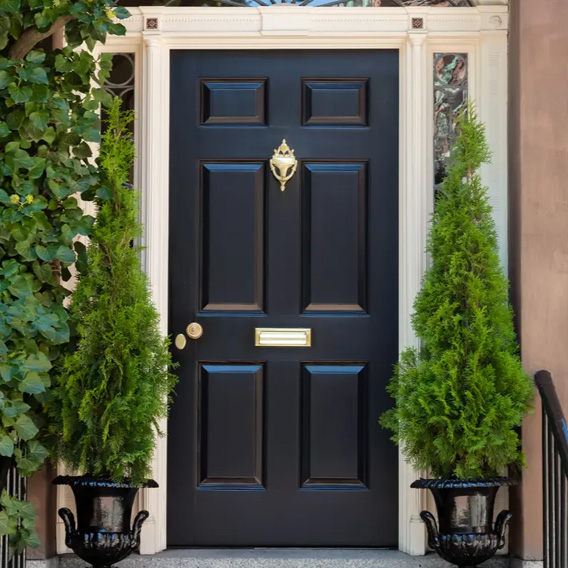 Fiberglass is the most popular option for modern front door installation. These doors are the most affordable choice while also being beautiful, energy-efficient, strong, and long-lasting.
Wood is the traditional choice for front door installation. Real wood provides an unparalleled and charming aesthetic, but the trade-off is that a wood door will require more maintenance over the years.
Metal front doors are a trendy pick due to improvements in aesthetics but also for security reasons. These doors are impressively durable too but can be difficult to fix if dented or scratched.
Energy specializes in all types of exterior and interior doors and installs and replaces patio doors as well. Our team installs sliding patio doors, folding or accordion patio doors, and French patio doors. These doors are energy efficient, convenient, and beautiful, and available made from a wide range of materials, including vinyl, fiberglass, and wood.
Why Choose Us
Energy Windows Doors and More is the smart choice for your front door installation in the Delaware Valley because we've been a trusted window door installation contractor in this region for more than a decade. We're also a family-owned and -operated company that continues to deliver the attention to detail and customer service you expect from a family business no matter how successful we've become.
A More Energy-Efficient Home
Exterior doors and front doors in particular are integral to a building envelope and thus play a key role in how comfortable a home is and how much it costs to keep it like that. Many of the doors that we offer are ENERGY STAR certified, which guarantees you a certain level of performance. It may also make you eligible for a tax credit or other incentives that can help offset the initial investment.
Free At-Home Consultation
If you're considering front door installation, Energy will provide you with an at-home consultation at no charge and without obligation. During that appointment, we can inspect your current front door and provide a professional assessment, answer any questions that you may have, and explore your front door options for you. We can also provide you with free estimates for any of our products that interest you.
Request A Free Quote To Take The Next Step?
Request a Free Quote Today for Trusted Front Door Installation
Energy has helped many homeowners throughout the Delaware Valley enhance their homes with new front door installation, and we can help beautify and protect your home too. Schedule your free consultation online or call us at 1-484-645-6331 with any questions.