Request A Quote To Get Started
Choose Energy for your front door replacement & installation to ensure that your home stays secure and efficient for many years, thanks to our superior products and expert installation.
Get a New Front Door
At Energy, we offer top-notch front door replacement services, and your new front door can be made of fiberglass, wood, or metal, depending on your preference. Our professionals have years of experience in front door installations and are equipped with the latest tools and techniques to ensure a seamless and efficient installation process. Whether you're looking to upgrade your home's security, improve energy efficiency, or simply want to enhance the appearance of your front entrance, we have the expertise to provide you with the right solution. As a family-owned and operated company, our customers' satisfaction is our top priority. Discover the Energy difference today.
Choose Your Front Door Materials
Front doors with quality design give the whole house character. The front door naturally draws people's attention, even if they aren't entering the house. When choosing a new exterior door, you have a lot of options to consider: Using decorative glass, side panels, or a traditional hardwood are all fantastic options for a front door that is truly extraordinary.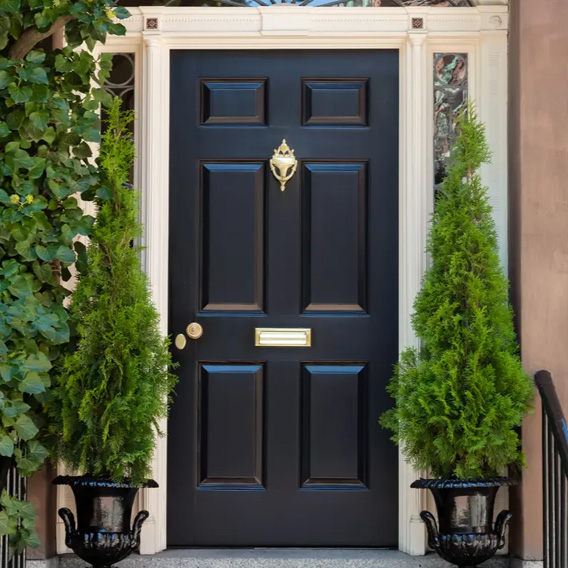 Fiberglass Front Doors
Fiberglass front doors offer design options, strength, and energy efficiency. They're widely considered the best option for homeowners looking to upgrade their entryway. We recommend them for those seeking to enhance both appearance and energy efficiency.
Wood Front Doors
For those who place a high value on appearance, a wooden front door replacement is a great choice. Although they tend to be less energy-efficient and less secure compared to other types of doors, the extra cost of a wood door is well justified when it complements the look of your home.
Metal Front Doors
If you're looking to upgrade the security of your home and make a statement at the same time, a metal front door replacement is a perfect choice. Made of durable materials, these doors provide exceptional protection and come in various designs and colors to suit your aesthetic preferences.
When Do I Need a Front Door Replacement?
A front door replacement may be necessary for several reasons, including wear and tear over time, damage from weather or accidents, or a desire to update the appearance or functionality of the door. Additionally, if your current front door is not providing adequate insulation or security, a replacement may be necessary to improve energy efficiency and protect your home. If you notice cracks, warping, or draftiness, or if you have trouble opening and closing your door, it may be time to consider a replacement. Ultimately, a front door replacement can enhance both the appearance and security of your home and should be considered when your current door is no longer functioning properly.
We also Handle Patio Door Replacement
In addition to front door replacement, Energy also specializes in patio door replacement. Our team of experts can provide you with a new patio door that can offer improved energy efficiency, enhanced security, and a modern aesthetic. Whether you prefer sliding doors or exterior French doors, we have the expertise to ensure a seamless and efficient installation process. With a new patio door, you can enjoy more natural light, improved access to your outdoor space, and a refreshed look for your home. If you're looking to upgrade your patio door, let our experts at Energy help you find the perfect solution.
Exterior French Door Replacement
French doors are frequently chosen for patio replacements due to their ability to provide a substantial opening and unobstructed views. They are a popular alternative to sliding doors and offer a distinctive aesthetic. If you're seeking to add a touch of individuality to your outdoor space, French doors are a superb option.
Upgrading your outdated sliding glass doors can lead to energy savings and lower utility bills. This is especially crucial if you have an older home, as recent advancements in sliding glass door technology can greatly improve its performance. Installing new, double-paned, and well-insulated sliding glass doors can provide long-lasting comfort in your home, preserving heat during winter and cool air in summer. In short, replacing your aging sliding glass doors can enhance the livability of your home.
Request A Free Quote To Take The Next Step?
Trust the Experts at Energy for Your Front Door Replacement
At Energy, our team of professionals is dedicated to helping homeowners with their front door replacement needs. From choosing the right material and style to ensuring a seamless installation process, our experts are here to help. With our commitment to customer satisfaction and high-quality workmanship, you can trust that your front door replacement project is in good hands. Call us today at 1-877-946-3697 or contact us online to schedule a consultation and let us help you make the most of your home.